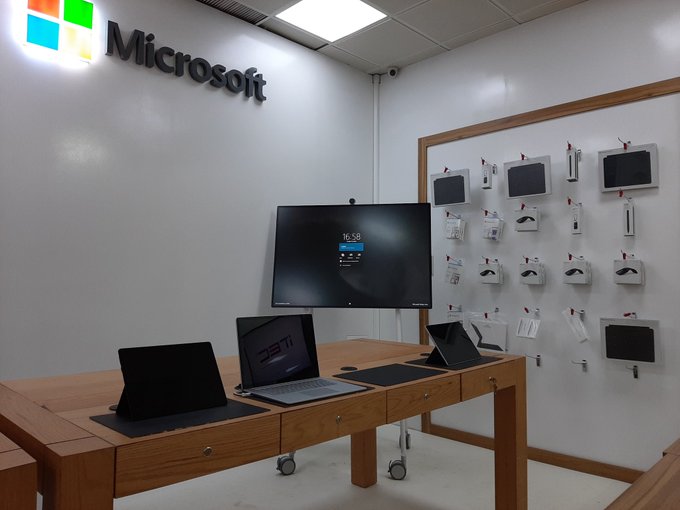 Microsoft Nigeria is taking advantage of TD Africa's Tech Experience Centre to promote customer immersive experiences.
The centre will allow the company host Microsoft technology solution envisioning sessions with customers, says General Manager Akin Banuso. He noted the envisioning sessions will be like a window into the future and present of possibilities.
Technology Distribution Ltd, also known as TD Africa has launched what it calls the world's first Tech Experience Centre with a convergence of Global IT giants in Victoria Island, Lagos, Nigeria.
The technology experience centre is housed in the eight-story Yudala Heights. It seeks to add value to Nigeria's information, communication and technology ecosystem.
By bringing together under one roof global technology companies such as Microsoft, Apple, Samsung, HP, Dell, Cisco, Schneider Electric. To offer hands-on experiences of new solutions, infrastructure and devices.
Microsoft and the Tech Experience Centre
The Tech Experience Centre will play an extremely strategic role in enabling us in Nigeria to build and work with our customers to envision solutions that will move us forward to the future we require. This ought to help with showing our customers what I would call 'The art of the possible'.

Akin Banuso, General Manager Microsoft Nigeria
The centre is something Microsoft needs to be a part of, notes Josh Adekeye, Microsoft Senior Partner.
"For us at Microsoft, when we heard about the Tech Experience Centre, we knew that it was something we needed to participate in. Before now, we usually fly our customers to Microsoft Technology Centre either in Dubai or in the US.
However, when this opportunity came, we indicated interest and supported TD Africa to achieve it. We will always support the Centre. The beauty of technology is in seeing it.
What Microsoft brings to the table is customer immersive experience. It means the customer will see the technology, feel the impact and make their decision easily and quickly."

Josh Adekeye, Senior Partner Specialist – Modern Workplace Microsoft
World class training
The centre will afford young Nigerians the opportunity to receive world-class training on the latest technology says Chidalu Ekeh, head of the centre. He noted, TD Africa is creating a path in Nigeria where state-of-the-art technology will be accessible to CEOs, CIOs, CTOs and other technology consumers. So that they can make prompt decisions without leaving the country.